---
30 Oct 2017
Child Reverence in the Chapel
NOTE: Here is a simple approach for teaching young children to be reverent in church.  I developed and used it successfully for many years while raising our children.  It was especially helpful to me when I was a widowed, single, military parent (and, raising seven children ages 4 month to 13 years old).  The "procedure" probably fits nicely into the category of "Tools for Mr. Mom."  To be sure, it is a man's approach; but, it's not limited to men.  That said, I expect there will be some "real Moms" out there who may frown a little at it's application.  But for me, I'm a "concrete sequential" kind of guy; and, I desperately needed to figure this out, …and write it down.  So, here's the plan:
Key Principles:
We need to make being reverent in the chapel a happy and positive experience for children. They need to think/know that being quietly on the pew with Mom and Dad is better than being elsewhere.
Children naturally act like "kids:" full of goodness, fun, curiosity, and love. But, they need to be cultivated and learn an attitude of reverence.
Patterning and learning reverence begins in the home. So, in the home, we need to begin by developing an atmosphere of reverence.  We should teach it and practice it, if only for brief periods each day.  Reverence at church is a manifestation of how well we're doing.
Children want to please you, and they enjoy positive reinforcement.
Tools:
Soft/quiet educational toys/books for reverent activities.
An available classroom for a "Quiet Room" (try to pick an empty room).
Two hard chairs in the quiet room, facing away from each other.
General Guidelines for Church Reverence:
Come to church at least 5 minutes early and sit reverently with your children and as a family. Don't permit them to be noisy or run and play in the chapel.  Do allow the children to play quietly with the soft toys and books.
Smile and softly compliment your children when they are reverent in church (and at home).
If they become restless, speak softly to them, and encourage them to focus on quiet activities.
If a child becomes irreverent and distracting from the spirit of the meeting, escort him out of the chapel (leaving the soft quiet toys behind).
It's usually best to carry the child out.  And, if the father is available, this could well be considered "his responsibility."
Advanced Reverence Training:
As you carry your child out of the chapel, don't stop in the foyer or hallway. Go directly to your pre-designated "Quiet Room."
Gently seat the child on one of the chairs, facing an empty wall. You sit on the other chair, with your back to the child and facing away.
If your child tries to get off the chair, look back at him and say: "No, sit back on the chair!" (It may be necessary to actually put the child back in the chair.  Be gentle, but firm.)  You may need to repeat this step several times before your child knows you mean it.
Eventually, the child will remain seated but will begin to cry. Wait at least 60 second after he starts to cry.  It may get loud, but that's okay.  You're in a quiet room; and, crying won't hurt him.
Then, after the minute or so (and while he's crying), turn to your child, put out your hands, and say: "Do you want me to hold you?" This usually stops the crying, and the child will melt into your arms.
Please note: This is a very treasured moment with your arms wrapped around your perfect angel.   Wait a few minutes and enjoy that moment.
Now, …in addition to enjoying the moment, be very careful.  Your child may think the ordeal is over and want to just get down and play.  If that's the case, he needs to go back to the chair, and you need to repeat steps 2 thru 5 again until he remains quiet (or asleep) in your arms.  Once he has accepted the inevitable, stand up and walk lovingly and humbly back into Sacrament Meeting (with your child comfortably in your arms) and take your seat.
Of course, if later he repeats the unacceptable and distracting behavior in Sacrament Meeting, escort him out again and repeat the Advanced Reverence Training steps above.  Soon, he will understand "it's better to be reverent in Sacrament Meeting."
---
6 Feb 2017
The Doctrine of Christ
The Doctrine of Christ is referred to many times throughout the scriptures.  But, what is the Doctrine of Christ?  What does it mean?  What is its purpose?  And, how does it apply to us personally?  I believe this subject is enormously important to understand.  So, I would like to present it for general consideration.
The Lord taught that the Doctrine of Christ "is the doctrine which the Father hath given unto Me" (3 Nephi 11:32).  In simplest terms, it is the path our Redeemer has set out which, if followed, will bring His chosen people to a knowledge of Him, and which must be followed if we are to learn of Him and receive Eternal Life and Exaltation.  (See 2 Nephi 31; 3 Nephi 11; 3 Nephi 15:9; D&C 76:50-70; and, 2 John 1:9.)
The basic principles of the Doctrine of Christ include: learning of Christ, believing and exercising faith in Him, repenting of our sins and forsaking them, being baptized in His name, receiving the companionship of the Holy Spirit (aka the Holy Ghost), and enduring in faithfulness to the end.
The process works as follows: First, we learn some truth about Jesus Christ, we exercise Faith in that knowledge (or idea) about Him, and we earnestly seek to learn more.  As we do, we learn how wonderful and perfect He is; and, we desire to be like Him.  We will naturally want to change or adjust our behavior (repent).  In addition to making those changes, we will want to express our commitment to become more like Him (thru baptism).  When we do this (have Faith in Christ, Repent, and be Baptized), the Lord is so pleased that He provides a greater opportunity for us to receive knowledge of the Father and the Son: He offers the increased influence of the Holy Spirit in our lives (the Gift of the Holy Ghost).
Now, we know the Holy Ghost is a member of the Godhead and an individual personage of spirit.  His influence for good is present, and can be felt, throughout the world.  As a member of the Godhead, we understand He has many duties, and these are reflected in His many titles: among which are "the Revelator," "the Comforter," and "the Spirit of Truth."  We know that He testifies of and confirms truth.  But, His primary mission is to bear a truthful record of God the Father and His Beloved Son, Jesus Christ.  So, as we strive to follow the Doctrine of Christ and enjoy an increased influence of the Holy Spirit (the Revelator) in our lives, we will gain additional knowledge and insight (truth) of God and Christ.  We increase in our understanding of who Christ is (beyond just an idea of who he is).  We grow in our understand of "His character, attributes, and perfections," and we receive additional insight and confirmation of the truth.  Through this process, we become increasingly motivated to modify or change our lives (repent), and become more like Jesus Christ.  Frankly, as our knowledge of Christ increases, so does our Faith in Him because we have more information upon which to exercise faith.  And, as we gain more knowledge of Him, we will see additional changes that must be made in our lives, and we will continually be motivated to make additional adjustments (repentance). Thus, with an increasingly greater influence of the Holy Spirit in our lives, we are blessed to know the Savior, and guided in our progress along the path to become more like Him.
This then is the cycle of progression and sanctification: Faith in the Lord Jesus Christ, inspiration and knowledge of Him, desire to be like Him, adjusting/repenting, renewed commitment (personally and symbolically through the holy sacrament), increased inspiration and knowledge from the Holy Spirit, and endurance in that process to the end.  And, as we receive increased inspiration and knowledge of Jesus Christ, we will have more information about Him upon which to exercise faith.  Our Faith in Him grows more, and the cycle continues as we endure faithfully.  And, we should add to this cycle three important behaviors: 1) a greater study of the truth, 2) more effective prayers, and 3) faithful obedience to what we learn along the way.  These final three steps (Study, Pray, and Obey) provide the fuel to feed the mind and inspire the growth.
If in this life, we remain steadfast in Christ, continue to have faith in Him, always retain a remission of our sins, rely on the Holy Spirit to guide us, obey the principles we learn, and endure faithfully in the Gospel, we will successfully follow the Doctrine of Christ, stay on the path that leads to Him, and gain Eternal Life. This is "the Doctrine of Christ" (2 Nephi 31; 3 Nephi 11; D&C 76:50-70; and, 2 John 1:9).
Importantly, as we faithfully follow the doctrine, we will gain increased confidence to stand spotless in His presence at the last day (D&C 121:45; 1 John 2:28).  Therefore, our spiritual goal in life should be something like this: To be worthy to stand spotless and confident before the Lord at the last day. That should be our goal.  And, regardless of our age or position in this life, it doesn't change.  We should be striving to receive and retain a remission of our sins (Mosiah 4:12), listen to and follow the promptings of the Holy Spirit (Moroni 10:5), continue in obedience to the commandments (3 Nephi 12:19-20), and honor our sacred covenants (D&C 66:2).
Elder D. Todd Christofferson of the Quorum of the Twelve Apostles, in speaking of the Doctrine of Christ, encourages us all to "seek through prayer and study of the scriptures" a divine witness of Christ's "divine character, the Atonement, and the Resurrection of Jesus Christ.  Accept His doctrine by repenting, being baptized, receiving the gift of the Holy Ghost, and then throughout your life following the laws and covenants of the gospel of Jesus Christ."  (Ensign Magazine, May 2012.)
By following the Doctrine of Christ, we will stay on the path that leads to Eternal Life, "the greatest of all the gifts of God" (D&C 14:7).  And, it doesn't really matter what point we're at along the path. If we stay on the path and continue to progress, we will be following our Heavenly Father's plan and becoming what He wants us to become.  Ultimately, if we endure faithfully to the end, we will find that we have changed for the good.  Our "confidence" will "wax strong in the presence of God" (D&C 121:45-46).  And, "…when He shall appear," we will find that we have become "like Him." (1 John 3:2 and Moroni 7:48).
---
2 Feb 2017
GROWING OLD: A Personal Introspective
With "old age" coming on, I've come to the profound realization that the service I've provided in the past, for my family and for my church, is now becoming much less required of me.  I still want to be involved in family and church activities, but it's becoming clear (or I'm beginning to think): I'm not so much an active player; and, much of life is moving on just fine without me.  Younger men are exercising their divine roles and performing many of the tasks and services I used to perform.  My children have their own busy lives and family challenges; and, as a senior citizen, I've become less involved in the daily dynamic of their individual lives.  At church, very well qualified young men are being called to fill many of the church callings I used to hold.  And, my new church service opportunities are beginning to take on a more "senior" perspective.
These things are not bad.  I suppose they're just the natural flow of life; the order of life as we age.  I know I'm still loved by my family and friends.  I know I'm respected at church.  And, I know the Gospel of Jesus Christ is still true.  But, the type and nature of my active service has changed.
Clearly, life doesn't stand still.  If lived right, it's dynamic …and, it progresses.  And, there is a purpose to it, a divine plan.  As we progress along the way, there are many different service opportunities, events and experiences that occur, all of which can help to qualify us for Eternal Life (God's Life) and prepare us for life and service in the hereafter.  As President George Albert Smith taught: "we are not here to while away the hours of this life and then pass to a sphere of exaltation; but we are here to qualify ourselves day by day for the positions that our Father expects us to fill hereafter."  These qualifying "earthly experiences" are teaching and refining steps in our Heavenly Father's Great Plan of Salvation …His Eternal Plan of Happiness.
For now, we may not want our lives or our relationships to change.  We've become comfortable in the way they have been.  But, there is so much more to learn along the path of happiness, even as we age.  As we learn and grow, we invariably see that there is still much more to life.  So, we change and move along the path (we progress).  And, as we progress along the path we receive new opportunities, new awareness, and new understandings.  How we adjust and deal with those changes will determine our growth.  If we make good choices, and stay on the path, we will find we are drawing closer to Jesus Christ, the Son of God.  We will actually be changing and becoming more like Him (1 John 3:2 and Moroni 7:48); and becoming what He wants us to become.
With those thoughts in mind, I've been thinking about the nature of growing older, and the opportunities I have at this stage in life.  Many thoughts have come to mind, so I've tried to write them down.  The following is an initial, simplified list of personal observations.  In addition, I've included a simple personal list of introspective questions about how and what I can do as I grow older and strive to "Come unto Christ."  The personal observations are good points to consider.  But more importantly, reading and pondering the introspective questions have helped me to focus on what is most important.
Personal Observations:
I have less physical energy and more stiff muscles and joints.
I have a greater sense of awareness.
I have more time to read the scriptures, ponder, and pray.
I enjoy my private time and quiet moments to think.
I have felt more introspective.
I am more sensitive to the promptings of the Holy Spirit.
I am more interested in Family History.
I have a greater interest in frequently attending the Holy Temple.
I have the opportunity of serving a Full-Time Senior Couple Mission for the Church with my wife.
I enjoy occasional family visits and love to be together with them.
I have learned to enjoy the simple things in life.
I am kinder and more respectful of all people …and animals.
I am less inclined to transgress the commandments.
I have so many wonderful memories.
Introspective Questions:
What are my responsibilities to myself and my wife?
What must I do to maintain my good health?
What is my current and future role in our extended family?
What can I do to influence my family towards the good?
How can I always demonstrate love for my family?
How can I continue to be involved in a meaningful way?
What more can I do to draw closer to Jesus Christ?
How do I "always" retain a remission of my sins?
What can I do to magnify the Holy Priesthood in my life?
What contributions can I make at church?
What more can I do to be worthy of so many blessings?
What more can I do that I may stand "spotless" before the Lord at the Last Day (3 Nephi 27:20)?
This has been a fun and rewarding subject to thinks about.  Just writing it down and pondering on it has helped me get my arms around the irrational fear of growing old and becoming irrelevant.  I am more confident this will not happen to me.  This also strengthens my testimony of the greatness of Heavenly Father's Great and Eternal Plan of Happiness.
---
24 Aug 2016
Fishing Lessons and Memories
When I think of my childhood in San Francisco, I often think of fishing.  I loved fishing, and some of my most vivid childhood memories are of the times I spent "sitting on the dock of the bay."  I owe these memories to my dear mother.
Like too many other children, my parents were divorced.  I was 8 years old when I found out what divorce was.  The next two years were a difficult and turbulent time for my sisters and me.  We would find ourselves with Dad one weekend and with Mom the next.  Plus, our parents would have different boyfriends and girlfriends; and then, we had step-moms and step-dads, step-brother and step-sisters and eventually half-brothers.  Exchanges from one household to the other were usually very awkward and emotional.  Finally, in the summer of 1957, the decision was made that I (and three of my sisters) would stay with our mom.  I loved both my Mom and my Dad, but I remember how very happy I was to finally be settled with my mother.
Now, in her concern that I not be denied the rights of youth, my mother began encouraging me to learn to fish.  That first full summer with her, I spent many hours working to earn the money needed to purchase my own deep sea fishing gear.  Of course, mom subsidized my purchase, but I was able to earn some of the money and pick out my first deep sea rod.  Then one Saturday, there was the trip to Pacifica and the home of Mom's friend Ruby.  Ruby's husband (Jim) was a quiet gentleman who liked to work in his garage where he made his own fishing tackle.  I spent most of the day there with Jim in his garage watching him work.  He sent me home that night with some good tackle and good advice.
Soon, after a few preliminary trips to the beach for casting practice, I was ready for the big event.  It was a Saturday and my mother planned that I would spend the day fishing under the Golden Gate Bridge.  She would drop me off early in the morning and pick me up around dinner time.  Much to my surprise, I was able to wake up that day at 4:00 am and still found my body reasonably functional.  I was very excited.  Of course, mom was up too and seemed to be as excited as I was.
It was still dark when we climbed into the car.  But, by the time we got to the Presidio of San Francisco, it was light enough to see the many wild rabbits looking for their early morning meals.  When we arrived at the Golden Gate Bridge there was enough light that the drive down the narrow road to old Fort Point beneath was not too difficult.  At the bottom of the hill, we came to the quayside along the very edge of the bay.  Then, we drove on the old road that led along the water's edge to old fort under the bridge.  As we neared it, we saw two or three older men already fishing.
Fort Point was built in 1850 as a defensive position to protect the San Francisco harbor.  It was strategically positioned adjacent to the entrance to San Francisco Bay.  The Golden Gate Bridge was built in about 1935, high above the fort.  When I visited the fort that day, still visible above the large old wooden doors were the words, "Fort Point," with the year 1850 also visible.  Later in the day, I would be able to find a little diversion from fishing by looking through the gaps in the large bolted doors and by imagining the history that must have gone on behind them.  But my first and primary interest that morning while under the bridge was to get my line in the water.
I selected a spot between two of the men, took the gear out of my mother's car, and kissed her good-bye for the day.  I soon found that I had chosen a bad spot.  A wave crashed against the quayside and rocks, and rose some 15 feet over my head.  I immediately moved closer to one of the men.  He introduced himself as George.  George was an older black man who had lived in the city his entire life.  Apparently, he came often to fish under the bridge.  His car was backed up to the quayside and his little area was all setup for the day.  He spoke kindly of his wife whom he said allowed him to fish each Saturday.  George was a large man with many layers of clothing.  He wore warm gloves, but he had cut off all the finger tips exposing his fingers so he could work his fishing line and hooks.  George was very kind and clearly a seasoned fisherman.  He was also very kind and friendly to me.  He packed a lunch and snacks and was very willing to share his lunch with me, the kid who forgot to bring lunch.  He must have been humored by me, a skinny 10-year-old boy with inadequate clothing and little experience as a fisherman.  By the end of the morning, George proved to be a good friend, and a willing teacher.
We spent most of the day together.  We didn't talk much.  George was a quiet man.  Mostly he was just kind and friendly.  Plus, he taught me how to tie my leader, bate my hooks, cast out, and reel in my line.  He also knew exactly where to cast his line without getting it tangled in the rocks below.  As for me, I got tangled too often and had to cut my line many times losing my leaders and hooks.  And, it seemed that for every fish I caught, George would reel in four …plus a few crabs.
After that day and for some time into the fall, George and I met nearly every Saturday morning for more fishing.  My fishing skills didn't improve all that much, but I gained a lot from being there with George.  We sat and fished and talked a little.  We also listened to the sounds of the waves, the cries of the seagulls, and the blaring of fog horns …sounds that comfort me (then and now).  I returned many times to fish with George …and, to think about important things.  I thought, and fished, and thought some more.  Looking back on it now, I sometimes wonder if my mother ever knew just how important those fishing days were to me.  At a very difficult time in my life, I met George, a quiet man who taught me to fish and gave me personal examples of goodness, kindness and stability.  I wonder if George knew.
---
19 Aug 2016
Untether the Phone
I used to enjoy the convenience of having a mobile phone.  It was great to have instant access to my family …and, the world.  With it, I could always be in contact with family, friends, and clients.  I had instant access to my e-mail messages, all my contacts, current weather reports, the news, and maps.  I even received health and fitness tips via my smart phone.  And amazingly, I also had instant access to all my personal data files in "the Cloud."  I was digitally in control of what I thought were the most important elements of my life.
Not long ago, I decided to upgrade to a newer "smart" phone.  I selected what I thought would be the best phone for my needs.  Unfortunately, within just a few months, I began having annoying troubles.  The phone would regularly freeze up when I was in the middle of messaging.  I had to restart the device before I could continue.  It also began overheating; so much so I couldn't keep it in my pocket.  I've taken the phone in several times for servicing, but with no success.  The service techs have tried to identify and resolve the problems, but thus far they've been unsuccessful.  At some point, each would say something like "we no longer support this phone," and/or "we've had no training on this phone."
Finally, I got to where I couldn't deal with the problems anymore.  So, I deliberately left the phone in my truck (plugged into the charger).  It was just too unreliable, and it was usually too hot to touch.
Having untethered myself from the phone, I soon realized I could get much more work done.  I am no longer interrupted or distracted by annoying text message beeps, instant messaging aps, unsolicited sales calls, and social media pings.  They continued to stream into my phone and get added to the long, never-ending list of incoming messages, but I am no longer constantly being interrupted by them.  I'm more relaxed and in control of my personal life.  Yes, the phone continues to accumulate all the messages and data, but I just wait until I actually have time to review the traffic.  Also, by waiting for a convenience moment, I found I'm more focused and can quickly scan the seeming endless lists and rapidly delete the meaningless and/or irrelevant items in bulk.  I am much more productive in all aspects of life.  I control the phone; it doesn't control me.  Now I just need to figure out a way my wife can contact me when my phone is in the truck.
---
30 Jun 2016
I Like Checklists!
I have found that I'm able to do many complex tasks if I have a clear and accurate checklist to follow. A checklist is a written, systematic, step by step process for completing a task.  It contains detailed instructions and is usually organized in a logical sequence.  Now in some ways, checklists can stifle creativity and/or free expression.  But when it comes to a complex task, checklists are useful and can help us to successfully complete a task and avoid omitting critical procedural steps.
As a military officer, I usually planned my work around a mission statement.  It was a general or big picture statement describing our organizational mission.  To support our mission statement, we identified objectives and set tasks that needed to be accomplished to meet those objectives.  Then, we wrote detailed procedural checklists to accomplish each tasks.  With complex tasks, it was important to not only see the big picture, but to follow the checklists.  Complex tasks require each step to be followed precisely in order to reach a specific outcome and not overlook important details.  I learned to like and rely upon procedural checklists.  In the military, these checklists where tested, double checked and triple checked, just to make sure they were understandable, accurate, and effective.
Now, while I learned the benefits of checklists in my military duties, it wasn't until I became a single parent with seven (7) children that I also learned how important they could be in the home. My world turned upside down when an unexpected illness took the life of my dear wife.  My children and I were thrown into a very sad and difficult situation.  The oldest child was just barely 13 years old, and the youngest was not yet 6 months.  During the first few months, I struggled daily with many seemingly ordinary tasks: e.g., laundry chores, grocery shopping, household cleaning, dinner menus, meal preparation, bathing, clothes shopping, etc.  It wasn't long before I was completely overwhelmed.  I needed to somehow get my arms around these pressing responsibilities. Then a light came on in my head, and I said, "I can do this!  I just needed to identify and simplify these duties (tasks)."  And, I knew just how to do that.  I turned to my military experience in preparing and following checklists.  First, I wrote a family mission statement.  Then, I made a list of all common household and family tasks.  I identified my objectives for each individual task.  I familiarized myself with each task and wrote "operation procedures" for completing them.  And finally, I wrote individual checklists for each specific task and described what constituted a completed task.  It made a lot of sense to me, and even though some people thought it was odd (crazy may have been what they were thinking), these procedures helped me (and my children) through a challenging period in our lives.
Later, I brought these skills with checklists into my spiritual life as well.  One evening, I met with several other Latter-day Saint single parents.  We met together regularly, but this time we had a late night dinner together at Denny's.  This was a good group of people.  But, we all shared similar challenges at home.  In addition to being single adults with children, we also had jobs; and, we were active Latter-day Saints.  It was a very challenging time in our lives.  We were struggling to balance the demands of our single parent homes with our employment; and at the same time, we were striving to live the Gospel Plan of happiness (for ourselves and our children).   We agreed, we all wanted to live as the Lord would have us live.  We wanted to obey the commandments and honor our covenants.  So, in our desperate situations, and in our efforts to become more Christ-Like, we decided to create a list of all the commandments we've heard mentioned over the pulpit.
Building our list of "commandments" was an interesting and ennobling exercise for our small little band of about six single parents.  When finished and typed, it was a five page, single spaced document (list) of commandments.  While it was educational and fun to "brainstorm" and create this list, we all knew it would be a bit overwhelming to try implementing all of it in our very busy and complicated lives.  Regardless, it was an interesting list, and we all benefited from the exercise.
Overtime and after facing some practical realities of family life, the original checklist was modified significantly.  I still have the original five page list.  It's fun to look at and ask "what was I thinking?"  The latest version is not really a checklist anymore.  It is a list of spiritual and temporal behaviors that, if followed, would lead a person closer to God.  After all, that should be our most important "task" in this life.  And as a bonus, this current list fits neatly on half a sheet of paper. So, here's how the list of "To-Do's" looks now:
The Ultimate Latter-day Saint "To-Do List"
Love God the Father and His Son Jesus Christ
Learn of the Father and the Son
Have Faith in Jesus Christ
Repent and retain a remission of your sins
Enter through the Gate (Baptism)
Rely on the Holy Spirit to Guide you
Be thankful and happy
Rise from your bed early
Exercise for a few minutes each day
Wash your body and make yourself clean
Dress for the day in clean clothes
Have virtuous thoughts unceasingly
Offer daily Personal and Family Prayers
Study/read the Scripture
Read the Book of Mormon daily
Obey the Commandments
Honor your Covenants with the Lord
Magnify your callings and Priesthood Power
Attend Sacrament Meeting (take the Sacrament)
Elevate your Sabbath Day activities
Pay a generous Fast Offering
Pay an Honest Tithe (attend Tithing Settlement)
Attend the Temple Regularly
Love and care for your family
Maintain a clean living environment
Have Family Dinnertime
Hold weekly Family Home Evenings
Love and Serve others
Be kind to all mankind (and animals)
Share the Gospel and bear your testimony
Do your Home/Visiting Teaching
Endure in Righteousness to the end
It probably takes a rather peculiar mind to really enjoy checklists (perhaps a "concrete sequential" mind). Regardless, I just know this: checklists have been useful in blessing my life.  I should also note, the Holy Scripture and the Prophets apparently use checklist.  You can find many examples of checklist in the Holy Scriptures.  My favorite is found in the 5th chapter of the Book of Alma.  Alma's checklist items are written as questions.  He asks, "have ye …?", do ye …?", "do you …?", "can you …?", "if ye …?", "is there …?", etc.  His objective was to call his people to repentance, to come unto Jesus Christ, and to "inherit the Kingdom of Heaven." (Alma 5:51)  In my military life, in my home and family life, and in my personal/spiritual life, I have benefited greatly from the use of checklist.
---
10 May 2016
Note to my Readers: Normally, I only blog personal insights and experiences here.  However, I've been reading the conference issue of the Ensign Magazine (May 2016) and felt strongly that I should share and highlight the following comments from President Russell M. Nelson.  I think President Nelson nails this one.  Many Priesthood holders fail to exercise the full power of the Priesthood of God, and they need to step up.  This is inspired counsel from the President of the Quorum of the Twelve Apostles to all Priesthood brethren.  We should all read this and listen to the Holy Spirit.  President Nelson identifies serious problems in the world, root causes of those problems, and he offers solutions.  This is an important message!  So, here you go my dear readers (family and friends)!  Please read on!  Scott (aka Dad, Daddy, Grandpa or Papa)
The Price of Priesthood Power
"Well, brethren …I fear that there are too many men who have been given the authority of the priesthood but who lack priesthood power because the flow of power has been blocked by sins such as laziness, dishonesty, pride, immorality, or preoccupation with things of the world.
"I fear that there are too many priesthood bearers who have done little or nothing to develop their ability to access the powers of heaven. I worry about all who are impure in their thoughts, feelings, or actions or who demean their wives or children, thereby cutting off priesthood power …that too many have sadly surrendered their agency to the adversary and are saying by their conduct, "I care more about satisfying my own desires than I do about bearing the Savior's power to bless others …that some among us may one day wake up and realize what power in the priesthood really is and face the deep regret that they spent far more time seeking power over others or power at work than learning to exercise fully the power of God.  (D&C 121:36)  President George Albert Smith taught that 'we are not here to while away the hours of this life and then pass to a sphere of exaltation; but we are here to qualify ourselves day by day for the positions that our Father expects us to fill hereafter.' (Conference Report, April 1905)
"Why would any man waste his days and settle for Esau's mess of pottage (Gen 25:29-34) when he has been entrusted with the possibility of receiving all of the blessings of Abraham? (1 Nephi 15:14-18; Abraham 2:9-11)
"I urgently plead with each one of us to live up to our privileges as bearers of the priesthood. In a coming day, only those men who have taken their priesthood seriously, by diligently seeking to be taught by the Lord Himself, will be able to bless, guide, protect, strengthen, and heal others. Only a man who has paid the price for priesthood power will be able to bring miracles to those he loves and keep his marriage and family safe, now and throughout eternity.
"What is the price to develop such priesthood power? The Savior's senior Apostle, Peter—that same Peter who with James and John conferred the Melchizedek Priesthood upon Joseph Smith and Oliver Cowdery—declared qualities we should seek to "be partakers of the divine nature." (1 Peter 1:4-10)  He named faith, virtue, knowledge, temperance, patience, godliness, brotherly kindness, charity, and diligence.  And don't forget humility! (D&C 4:6)  …the more those attributes are developed, the greater will be our priesthood power.
"How else can we increase our power in the priesthood? We need to pray from our hearts. Polite recitations of past and upcoming activities, punctuated with some requests for blessings, cannot constitute the kind of communing with God that brings enduring power. Are you willing to pray to know how to pray for more power? The Lord will teach you.
"Are you willing to search the scriptures and feast on the words of Christ (2 Nephi 32:3) — to study earnestly in order to have more power? If you want to see your wife's heart melt, let her find you on the Internet studying the doctrine of Christ (2 Nephi 32:2-21) or reading your scriptures!
"Are you willing to worship in the temple regularly? The Lord loves to do His own teaching in His holy house. Imagine how pleased He would be if you asked Him to teach you about priesthood keys, authority, and power as you experience the ordinances of the Melchizedek Priesthood in the holy temple. (D&C 84:19-20)  Imagine the increase in priesthood power that could be yours.
"Are you willing to follow President Thomas S. Monson's example of serving others? For decades he has taken the long way home, following promptings of the Spirit to arrive on someone's doorstep and then hear words such as, "How did you know…?"  And if you truly want more priesthood power, you will cherish and care for your wife, embracing both her and her counsel.
"Now, if all of this sounds excessive, please consider how different our relationships with our wife, children, and associates at work would be if we were as concerned about gaining priesthood power as we are in progressing at work or increasing the balance in our bank account. If we will humbly present ourselves before the Lord and ask Him to teach us, He will show us how to increase our access to His power.
"In these latter days, we know there will be earthquakes in diverse places. (D&C 45:33)  Perhaps one of those diverse places will be in our own homes, where emotional, financial, or spiritual "earthquakes" may occur. Priesthood power can calm the seas and heal fractures in the earth. Priesthood power can also calm the minds and heal fractures in the hearts of those we love.  …Are we willing to pray, fast, study, seek, worship, and serve as men of God so we can have that kind of priesthood power?
"My dear brethren, we have been given a sacred trust—the authority of God to bless others. May each one of us rise up as the man God foreordained us to be—ready to bear the priesthood of God bravely, eager to pay whatever price is required to increase his power in the priesthood. With that power, we can help prepare the world for the Second Coming of our Savior, Jesus Christ."
President Russell M. Nelson, General Priesthood Session, April 2, 2016
---
4 May 2016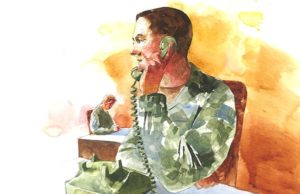 Thank you for Introducing me to the Gospel!
In the early 1980s, my family and I lived in West Germany.  We were members of the Kaiserslautern Germany Servicemen Stake.  At the time, our local leaders were emphasizing missionary work.  We were told that "within our circle of friends, the Lord had placed some of his choice spirit children who were seeking the Gospel of Jesus Christ."  My wife Jenny and I believed that to be true.  Our leaders encouraged each of us in the stake to identify non-member friends of ours that we thought would be interested in hearing the gospel message.  We were to make an initial list of about ten people.  Then we were to fast and pray about our list of friends and decide who we were to approach first.  We decide on contacting two men who were coworkers in my office.  I spoke first to Chris, a young single man in the office, but he showed little interest at the time.  Next, we planned to approach Bruce Hamby, a good and kind man with a young family.  However, several days went by and I found myself nervous about speaking to Bruce about the gospel.  Finally one day, Jenny called me at the office and said, "Have you spoken to Bruce yet?"  I said "no, but I intend to soon."  Then Jenny asked if Bruce was in the office that day, and I said that he was.  At that point, she said "Scott, put down the phone.  I will wait while you talk to him!"  Well, nervously I went over to Bruce and said, "Bruce, did you know that I'm a member of the Church of Jesus Christ of Latter-day Saints?"  He said yes, and I responded "Would you be interested in learning more about the church?"  His simple answer was, "Yes, I would."
Well, the next several weeks were magical.  Bruce and Ella (and their daughter Tanya) came to our home for dinner and met with the missionaries.  We also went to their home and had dinner with them and the missionaries.  The missionaries taught their lessons.  The Hamby's attended church meetings with us, met with the saints, and embraced the gospel message.  Then, in just a few short weeks, they were baptized.  It was a gloriously wonderful and happy day.  Even the young single man in our office (Chris) attended the baptism and was impressed.  Later on, Bruce and Ella approached Chris about the gospel; and with their fellowshipping, Chris was taught by the missionaries and was also baptized into the church.
Now this was a wonderful experience for our families.  But afterwards, Bruce came to me with an amazing addition to this story.  He said, "Scott I have something I'd like to tell you.  You should know that I grew up in a small town in Utah near Hill Air Force Base.  My father was a civilian employee at the base and we were not members of the church.  All through my school years I heard about things like Primary, youth activities and Seminary, and I was interested.  But no one ever invited me to attend.  I even had members of my immediate family who became members of the church, but I never felt invited.  Thank you for introducing my family to the gospel."
Today, Bruce and Ella are still very active in the Gospel.  Bruce has served faithfully on the Stake High Council and has served as a Temple Ordinance Worker.  Ella has served faithful as a Young Women's leader.  Their children have served missions and have made Temple Covenants.
(Note: This article was published in the Ensign Magazine, July 2016 edition, page 76.)
---
1 May 2016
A Pattern for Receiving Revelation
In my previous Blog, I mentioned that the mysteries of Godliness become clearer "as (we) draw nearer to our Heavenly Father and His Son, Jesus Christ."  I'd like to write a little more about that.  What does it really mean to draw closer to God?  How do mysteries become clearer as we do?  Or in other words, how do we receive inspiration/revelation. There are certain patterns and behaviors that can be learned that can answer these questions, as well as all other urgent matters.  Think of these steps as "homework" for qualifying to receive personal revelation.
Before we begin the process, we must have a personally desire to know of the Father and the Son.  "Desire motivates us to action.  In this case, we act because we want to know more about them.  As our knowledge grows, and we seek and pray for spiritual confirmation of the truth of what we've learned, we will begin to know them and naturally draw closer to them. (This is written about in more detail in my Blog item written 10 Mar 2016, "Faith and Charity.")
But as a practical matter, there are several "steps" you can follow to receive personal revelation, whether it be concerning a knowledge of Christ, or a knowledge of any other important issue. First of all, we need to understand that revelation comes from the Holy Ghost (or Holy Spirit).  The Holy Ghost is the third member of the Godhead, and He is called by many titles: the Holy Ghost, the Holy Spirit, and the Comforter (to mention just a few).  But, he's also called "the Revelator."  In his role as the revelator, his primary mission is to bare (reveal) and confirm testimony of the truthfulness of God the Father and His Son, Jesus Christ.  "And by the power of the Holy Ghost ye may know the truth of all things." (Moroni 10:5)
Secondly, we must be living a life worthy of the influence of the Holy Spirit (the Revelator).  The Book of Mormon Prophet Nephi taught that "he that diligently seeketh shalt find; and the mysteries of God shall be unfolded unto them, by the power of the Holy Ghost." (1 Nephi 10:19).   The Holy Spirit can guide anyone to know of Christ, but of necessity, He must withdraw if that person becomes unholy or unworthy of His presence.  If you've been baptized and received the gift of the Holy Ghost (by one who is authorized), you are promised that you may have the constant influence of the Holy Spirit; but here to, only if you remain worthy.  In all cases, if you are unworthy of His influence (e.g., because of unworthiness or sin), He will necessarily withdraw His influence from you until the problem has been resolved through repentance.
So now, having a desire to know more of God and Christ through revelation, and being worthy to receive inspiration from the Holy Ghost, one is ready to seek and receive inspiration from God.  In the Holy Scriptures, there are three wonderful and specific examples of how revelations was received: first, Nephi sees the Spirit of the Lord and is shown in vision the tree of life (1 Nephi 11:1-5); next, the First Vision of the Prophet Joseph Smith (JSH 1:7-18); and lastly, a vision given to President Joseph F. Smith concerning the redemption of the dead (D&C 138:1-11).
In these instances, these men had been pondering on matters of great importance and reflecting on the issues again and again.  In the case of the Prophet Nephi, he wanted to know the interpretation of his father's dream.  For young Joseph Smith, he was searching to know which of all the churches he should join.  President Joseph F. Smith had been searching for answers about the hereafter and about associations with loved ones who had passed away.   These matters weighed heavily upon their minds.
According to Nephi, he "desired to know the things (his) father had seen, and believing that the Lord was able to make them known unto (him)."  He reported that he "sat pondering in (his) heart."  Here, we must assume that in addition to pondering and believing, Nephi reflected greatly on his father's dream and prayed mightily to God. As to his reading from the scriptures, we know he was studying the Holy Scriptures (the Plates of Brass) and making his own scriptural record (1 Nephi 9).  In this process, Nephi "was caught away in the Spirit of the Lord" and saw many marvelous visions of the world including the birth of the Lord Jesus Christ.  Thus we see that he had an urgent matter, he pondered on it, he searched the Holy Scriptures, he reflected on it, and he prayed to the Father.
Reading Joseph Smiths account leading up to the First Visions, he recorded that in 1820 he was "called up to serious reflection" concerning which church he should join and his "mind at times was greatly excited."  He then reported that he read from the scriptures (James 1:5) and he "reflected again and again."  At length, he "determined to "ask of God."  And, he adds that he "knelt down and began to offer up the desires of (his) heart to God" to know which church he should join.  And then, this great vision opened up to him.  As was the case with Nephi, he had an urgent matter, he pondered on it, he searched the Holy Scriptures, he reflected on it, and he prayed to the Father.
In the case of President Joseph F. Smith, in 1918 he was suffering greatly from the loss of loved ones, and he was concerned about their condition.  He reported that one evening he was sitting in his room "pondering over the scriptures; and reflecting upon the great atoning sacrifice that was made by the Son of God, for the redemption of the world."  He reported that his mind reverted to the writings of the Apostle Peter (1 Peter).  Then, he opened the Holy Scriptures and read from 1 Peter 3:18-20 and 4:6.  He added that he was impressed and continued to ponder (prayerfully) over these things when "the eyes of (his) understanding were opened, and the Spirit of the Lord rested upon (him), and (he) saw the hosts of the dead, both small and great."  So, similar to the visions of both the Prophet Nephi and the Prophet Joseph Smith, this great vision opened up to President Joseph F. Smith.  And, we see a similar pattern.  We see that he had an urgent matter, he pondered on it, he searched the Holy Scriptures, he continued to ponder and reflected on it, and then this great vision opened up to him.
In summary, Divine Revelation came to these brethren as they each following several common steps: 1. They each had an urgent desire to know the truth; 2. They were worthy of the companionship of the Holy Ghost; 3. They pondered upon the matter; 4. They read and search the Holy Scriptures for answers; 5. They continued to ponder and reflect on the matter; 6. They knelt in humble prayer and spoke with the Father; and, 7. They quietly waited and listened for answers.
---
28 April 2016
My Testimony of this Life and the Plan of Salvation
This life and our existence, can be a mystery.  Who are we?  Where did we come from before this life?  Why are we here?  Where are we going after this life?  Is there an afterlife?  For me, the mystery clears as I draw nearer to our Heavenly Father and His Son, Jesus Christ.  I believe we are all spirit children of a living God (our Heavenly Father) and we lived with Him before our birth.  He is the Father of our Spirits; we are of divine heritage.  I believe God is perfect in all things, including Perfect in Love, Perfect in Justice and Perfect in Mercy.  I believe Jesus Christ is His Literal Son, the only begotten of the Father in the flesh, and He is like His Father in every way.  In our pre-existence, we loved God, and He loved us (and still does).  As His children, we desired to be like Him.  Because of His great love for us, He has a long term plan for each of His children (Moses 1:39) to eventually be resurrected and become like Him and His Beloved Son (Matthew 5:48 and John 17:2-3).  His plan includes our being born into this life to gain a physical body, to gain earthly experience, to learn of Him, to turn unto Him and obey His voice, and to prepare in all things to come unto Him again as resurrected beings.
In our pre-mortal spiritual existence, we enjoyed the presence of God the Father and His Son.  We knew them both, and loved them; …and, our spirits were pure and innocent before them.  By our birth to earthly parents, our spirits united with our earthly (mortal) bodies and we became "Souls" (D&C 88:15).  However, in this life, because of the Fall of Adam (which brought temporal and spiritual death upon all mankind), because of our individual transgressions, and because God is a God of Justice, we became separated from His presence (Alma 42:14 and Moses 6:57).  But also, because God the Father is merciful, He has provided a way for us to eventually overcome our condition in this life and return to His presence.  According to the Father's "Plan of Salvation," His beloved Son (Jesus Christ) was sent to the earth to atone for our sins and for Adam's transgression.  Through the atonement, He paid the demands of justice, and made it possible for mankind to be redeemed from the Fall (Alma 42:23 and 2 Nephi 2:8).  Jesus Christ took upon Himself the sins of the world; He suffered and atoned for our sins; after which, He was crucified and died on the cross. I also believe that on the third day, He overcame physical death through His resurrection and ascension into the presence of the Father (1 Corinthians 15:55).
Because Christ overcame physical death (through the resurrection), all mankind will be resurrected and will stand before Him to be judged.  Also, because of the atonement and His Grace, and by our living a life of Faith in Him, we can also be saved from spiritual death (spiritual separation from God the Father).  Like His Father, Jesus Christ is merciful and loving, but He is also a God of justice.  So, while His atonement has paid the demands of justice, there is much required of us to qualify for His mercy.  For our part, the Lord exhorts us to live our lives so that we can "stand spotless before [Him] at the last day" (3 Nephi 27:20).  By nature, we are all unworthy (to some degree) of His forgiveness and mercy.  But, we can draw near to Him and receive of His mercy if we exercise Faith in Him, repent honestly of our sins, are baptized by an authorized servant of the Lord (3 Nephi 11:21-22), receive the baptism of fire and the Holy Ghost, and continue in a life of righteousness (see Moses 6:51-62 and 2 Nephi 31:17-21).
Essentially, we will be judged according to the desires of our hearts, our faithfulness and obedience in keeping His commandments and our covenants, and our continuing or "enduring" in good works.  This is "the Gospel Plan of Salvation" …or, in other words, "The Plan of Happiness."  By following this plan, we can receive forgiveness and qualify for "Eternal Life" with God the Eternal Father and His Son Jesus Christ (D&C 14:7).  "Eternal Life" is the life enjoyed by God the Eternal Father, our Father in Heaven.  My sincere daily prayer is that I and all my family will stand spotless before the Lord at the last day.  For in the Lord's Eternal Plan, families are meant to be together forever.
---
24 April 2016
Early to Bed, Early to Rise!
Over the past year or so, I find I'm getting up earlier in the morning …and, I actually like it.  This all started about the time I changed my eating habits and began to lose a little weight.  It's funny, I now find it easier to go to bed early at night, I'm sleeping much better, and I have more energy for the new day.  In addition, I believe it has increased my productivity during the day.  I look forward to getting up early each day, saying my prayers, reading good books, pondering, and meditating.
The routine boils down to the following: Go to bed early each night.  Get up early each morning.  Exercise for a few minutes.  Get cleaned up (shave, shower and dress in clean clothes).  Go to a quiet place in your home.  Kneel and subdue your spirit before Heavenly Father.  Talk with Him in reverent prayer.  Wait for His holy inspiration.  Read and ponder the holy scriptures.  And then, meditate for a short while on the thoughts and feelings you've received; and, think about your blessings and challenges ahead.  (Note: When you find the "right" place in your home, I find it wise to return there each time you study and pray.  So, make it a routine to return to your "special place" for private prayer and study.)
I have discovered the truth of what we read in the scriptures, "…retire to thy bed early, that ye may not be weary; arise early, that your bodies and your minds may be invigorated." (D&C 88:124)
---
17 April 2016
A Personal Blessing from an Apostle of Jesus Christ
This weekend was our Stake Conference.  We were blessed to have a visit from Elder Dale G. Renlund, an ordained Apostle of the Lord Jesus Christ.  Our Stake Presidency was being reorganized and it was a busy two-day process.  As the Stake Clerk, I worked closely with Elder Renlund throughout the process.  It was a spiritual feast to watch the hand of the Lord in this great work and to be a witness to revelation.
At the conclusion of the conference and after the new Stake Presidency was installed, Elder Renlund conducted a two hour training session for the newly called brethren and their wives.  I was invited to attended the meeting and was asked to sit beside Elder Renlund, at his right. After a very meaningful, spiritual and timely training session, the meeting was concluded and Elder Renlund offered to give a closing prayer.  During his prayer, among many wonderful things, he mentioned my name specifically, thanked the Lord for my service and asked the Lord's blessings be upon me and my family.  I was overcome by emotion.  Lately, I have been praying earnestly to the Father for answers to many important issues in my personal life and in the lives of my children and family.  During this wonderful prayer from a living Apostle of the Lord Jesus Christ, I was overwhelmed with a sense of the Lord's love for me and my family.  I know that He (the Lord) knows me; and, He knows my wonderful family.  The sweet message and the confirmation by the Holy Spirit was truly a "tender mercy" of the Lord.  I sincerely felt my offering has been accepted of Him.
---
20 Mar 2016
Choose Wisely this Season
I've been thinking about the upcoming local and national elections this year in America.  I believe this is a critical time in our history, and the decisions we make this year will have a major impact on the future of our representative democratic republic.  A lot rests upon us as citizens to elect "honest men and wise …and good men" (D&C 98:10) to govern and uphold our nation and our values.
So, what are our obligations?  Simply stated, it is our solemn duty to become accurately informed, involved in the debate, and vote our conscience.  As the Prophet Joseph Smith taught: "It is our duty to concentrate all our influence to make popular that which is sound and good, and unpopular that which is unsound.  'Tis right, politically, for a man who has influence to use it." (History of the Church, 5:286).  These points are especially important within the context of the current political climate.  Much is at stake this year.  It appears that current political leaders in Washington do not represent the majority voice and will of the people and are more focused on their own political or personal agendas. U.S. citizens (and other residents) seem to be more and more dependent on support from the government.  And, many of our eligible voters appear willing to support the politicians who will maintain their so called "personal entitlements."  Add to this, our National Debt is ballooning grossly out of control.  This is a recipe for disaster.
For now, we still have the protection of our freedoms as spelled out in the Constitution and the Bill of Rights, but it's not a stretch to see how those rights might be stripped away …if citizens neglect their national responsibilities, and if the congress doesn't act to defend the constitution and support the rule of law.  Consider this from the Holy scriptures: "I, the Lord God, make you free, therefore ye are free indeed; and the law also maketh you free.  Nevertheless, when the wicked rule the people mourn. Wherefore, honest men and wise men should be sought for diligently, and good men and wise men ye should observe to uphold; otherwise whatsoever is less than these cometh of evil."  (D&C 98:8-10)
I hope we will all participate in the political process this year, and exercise our "influence" fully in whatever capacity and to whatever extent possible.  May we actively uphold the Constitution of the United States and the freedoms set forth by our inspired Founding Fathers.  May we become accurately informed, involved in the debate, and vote our conscience. And, may we seek out and elect "honest men and wise …and good men."
---
15 Mar 2016
"We've Witnessed a Miracle"
In September 2012, my wife Kathy and our daughter Sara were on a train from Germany heading for Grindelwald, Switzerland.  The ride took us from Nuremburg to Stuttgart, to Luzern, to Interlaken, and finally into the Swiss Alps to Grindelwald.  Wow, what a beautiful train ride through Switzerland.  But, the views in Grindelwald were even more breath taking.  From the high Grindelwald valley, we could see clearly the Eiger, the Monch, and the Jungfrau Mountains.  And the valley was one of the most picturesque valleys I've ever seen.  Tall mountains, trains, chalets, green grass with large grazing cows and sheep all were laid out like something we've seen in the Sound of Music or at a fictitious place like Disneyland.  But this was the real deal.  It was breath taking.  We stayed in a chalet like hotel (Hotel Panorama) located about 20 minutes from the train station.  It was a beautiful spot with great views off our balcony.
That evening we were hungry, so we went for a walk in search of a restaurant.  From the hotel we walked along a narrow, paved mountain road for about a half mile before coming upon a lovely hotel/restaurant.  We shouldn't have eaten there, but we were hungry.  It was a white table cloth restaurant featuring a very expensive menu.  And, I think we were one of very few guests.  Anyway, we ordered the food, it came, and it was delicious.  Unfortunately, the meal cost about 160.00 euros.  Oh well, we deserved a good meal.
Before we left, Kathy began to feel a little ill.  She thought there might have been something she was allergic to in the food, so she took a dose of her Benadryl medication.  On the walk back to the chalet, she began to feel worse.  By the time we got to our room, she was breaking out in hives over several parts of her body. Her airway was itching and swelling and even the quality of her voice changed.  We all became very worried, so Sara began searching the phone book for a local doctor.  Soon, Kathy began having difficulty breathing and her condition was getting worse. Sara was able to find an after hour's emergency number.  She called, but they told us there were no doctors available after hours in Grindelwald, and we should take Kathy to Interlaken for treatment …about 45 minutes away.  We didn't have a car, and buses and trains had stopped for the night.  Our only option was to take a taxi cab.
Sara called for the cab while all the time Kathy was trembling and seemed to be getting worse.  I could tell she was very frightened.  As a Registered Nurse (RN), she knew her condition was serious, and she feared she would not survive the taxi drive to Interlaken.  At that point, Kathy asked for a Priesthood Blessing.  First we all prayer together, then I administered a blessing as I listened carefully to the spirit.  After the blessing, Sara went outside to meet the cab driver.  Just minutes later, Kathy became very sick to her stomach and threw up her food.  Then like a miracle, her breathing eased and she began to feel better.  I checked her hives and they were subsiding.  She began to relax for the first time since the onset and she sat up in bed.  Sara and I still wanted to take her to the hospital, but Kathy felt so much better and insisted that she didn't need to see a doctor now.  She said, "I just want to stay here and sleep.  I'm feeling better.  I want to relax."  Well, when the taxi arrived we paid the driver his basic fare and thanked him.  Then, we returned to be with Kathy.  Later, Sara said that she "has always felt the Spirit most when there's a Priesthood Blessings."  And she added, "I think we've witnessed a miracle."
The next day, Kathy was like a new person.  She could still feel some of the effect of the hives, but overall she felt good and wanted to walk about town and see the sights.  We took the bus down the valley to Grindelwald, left our bags at the train station, and went off on an adventure walk in and around town.
---
10 Mar 2016
Faith and Charity
Faith is an action word.  It is not passive. It motivates us and gives us confidence to act.  It's an important principle of daily activity.  You could say "we live by faith" because we exercise faith in much of what we do.  Faith encourages us to get up in the morning and allows us to live, progress and enjoy each day.  Examples of active faith include: faith in ourselves and our abilities, faith in our plans, faith in our spouse, faith in our family and friends, faith in our old truck starting, faith to safely cross a busy street, faith to plant a seed, and much more.  Real faith motivates us to action.
When we act in faith, we act with confidence towards an object, an action or an outcome.  However, while faith gives us confidence to act, it does not guarantee a positive outcome.  The object of our faith may fail us.  For example, a faithful old truck may not start, a friend may disappoint, a crop may fail, or we ourselves may fail at a task.
However, there is one object of our faith that will never fail us.  That is, there is one personage we can have faith in that will not fail us: Jesus the Christ.  We can have Faith in Him, and we can trust Him.  He is who He said He is; and He is full of light, honesty and truth.  He is the Son of God, our redeemer, and the Father of our salvation.  He has taught that: we are all children of a Heavenly Father who loves us; we can be forgiven of our transgressions; and, we can return to be with our Heavenly Father again.  If we exercise sincere faith in Jesus Christ, continue to learn of Him, obey His laws, and remain true and faithful to what we learn along the way, then we can change our lives and become more like Him.
In its infancy, our faith in Christ starts and is based on just a correct idea that He exists.  When we act upon that "idea" or particle of faith, and seek to know more, the Holy Spirit will confirm in our hearts and our minds that it is true.  Learning of Christ is key to our Salvation.  He is the perfect example.  As we learn of Him, we can exercise faith on what we are learning, and then know of its truth.  Learning of Christ, having Faith in Him, and getting to know Him, motivates us to want to change and be better.  As we learn more of Him, we can more accurately model His life and become more like Him.  As we continue to study and learn more of the true nature of Jesus Christ, our knowledge of Him will grow, and we will have more information upon which to exercise faith.  All along the learning process, the Holy Spirit (the Revelator) will add (reveal) insight and will add additional confirmation of its truth.
This is the essence of the miracle of having Faith in Jesus Christ.  It is dynamic, growing and ultimately will lead you to Eternal Life (the Life that God the Eternal Father lives).
As we exercise Faith in Christ and earnestly seek to learn of Him, we will realize that we are different than He is.  Loving Him and wanting to be more like Him, we will naturally want to change, align or adjust our lives to His example.  This is called repentance.  In addition to making changes, we may want to express our commitment to becoming more like Him (baptism).  When we do so, the Lord is so pleased with our actions that He provides an opportunity for us to receive greater influence of the Holy Spirit in our lives (the Gift of the Holy Ghost).  Now, the primary mission of the Holy Ghost is to bear testimony of the Father and the Son.  So with an increased influence of the Revelator in our lives (and with continued study, prayer, and obedience), we will gain additional knowledge and insight of the Lord.  We will increase our understanding of who He is, receive additional insight and confirmation from the Holy Spirit, and become increasingly motivated to modify or change our lives and become more like Him.  As our knowledge of Christ increases, so does our Faith in Him because we'll have more information upon which to exercise faith.  As we gain more knowledge of Him, we will see additional changes that must be made in our lives, so we will make additional adjustments, and the Lord will bless us with a greater influence of the Holy Spirit (see Moses 6:52).
This is the cycle of eternal progression: 1) receiving a true idea about the Lord Jesus Christ, 2) exercising faith in that idea, 3) receiving inspiration or confirmation of it's truth from the Holy Spirit, 4) gaining a desire to become more like Christ, 5) adjusting/repentance to become more like Him, 6) making or renewing a commitment to follow Him, 7) receiving confirmation and increased inspiration from the Holy Spirit, 8) learning more of Christ and therefore being able to have more faith in Him, and 9) continuing or "enduring" to the end in obedience to the principles you are learning and to your growing understanding of the true nature of Christ.  With increased inspiration and testimony of Jesus Christ, we have more information about Him upon which to exercise faith.  As we exercise faith in the additional "true" information, our faith in Him grows more, and the cycle continues.  Of course, all along the way the cycle is fueled by greater study of the true nature of Jesus Christ, more effective personal prayers, and faithful obedience to what we learn along the way and know.  (See 2nd Nephi 31:20.)
Now, what of Hope and Charity?  Charity is defined as the "Pure Love of Christ," or the pure love that Christ has.  In the above description of "the cycle of progression," Hope and Charity are byproducts of sincere Faith in Jesus Christ and they grow proportionally as we become "like" Christ.  As our faith grows, so grows our Hope in the future, and so grows our pure love of God and all mankind (Charity).  I believe it is accurate to say, "the man with Faith in Christ will also have hope in the future and charity for all."  The man with great faith in Jesus Christ will have great hope in this life, and above all will have great charity for all.  As the Apostle Paul taught: "And now abideth faith, hope, charity, these three; but the greatest is charity" (1 Corinthians 13:13).  These three are inseparable.  But the pure love of Christ (charity) is a more visible or outward manifestation of being "Christ Like."
---
17 Feb 2016
Answers to Prayers
I believe the Lord hears and answers the sincere prayers of the Faithful.  However, He does not always answer them in the manner, and at the time we might expect.  We may think our concerns are of great importance and/or urgent, but the Lord knows all things, and He knows what's best.  A scripture comes to mind: "For my thoughts are not your thoughts, neither are your ways my ways, saith the Lord.  For as the heavens are higher than the earth, so are my ways higher than your ways, and my thoughts than your thoughts" (Isaiah 55:8-9).  To illustrate this point, I would like to share two examples of urgent prayers.
As a young missionary (1967), my companion was severely injured in a farming accident.  As I prayed over his gravely injured and dying body, I called upon the Lord to spare his life.  I felt confident that the Lord would answer my prayers.  After all, my companion was a faithful full-time missionary in the service of the Lord, and I had offered an earnest and very sincere prayer.  As I labored over his body, I continued to pray quietly in my heart and mind promising the Lord I would dedicate my live in His service if He would just save my companion.  Sadly, Elder Lenroot was not "spared."  I agonized for days over his loss; but eventually I realized, my companion is now with the Lord, and he is still in His service.  But what of my faith and prayers?  Were my prayers answered?  Were they offered in vain?  No, they were not answered as I had hoped.  They were the selfish prayers of a desperate man.  In the end, the will of the Lord was done according to His wisdom.
Incidentally, as time passed I reflected frequently on Elder Lenroot's injury and the desperate promise I made to the Lord.  At the time, I remember thinking briefly: "I guess I'm off the hook now!"  However, that was not the way to look at it.  Frankly, I was wrong.  Consequences in this life should have no bearing upon whether or not we should choose the right.  Choosing to serve the Lord is a correct decision.  Making that choice should be independent of life's consequences.  In my case, I knew I had already made the decision to serve the Lord with all my might.  It was a Holy Covenant I had made previously.
Several years later (1975), another prayerful event occurred.  Our Stake Presidency visited our Military Servicemen's Branch to reorganized the Branch Presidency.  In that process, I had the opportunity to be interviewed by the Stake President.  I wasn't asked to serve in the Branch Presidency; but later in the day, the President asked to meet with me again.  In this second interview, he said: "Brother Edgar, we came here today to reorganize the Branch Presidency of the Bitburg Branch.  We did not plan on reorganizing the Elders' Quorum Presidency.  However, it has become clear in my mind that the Lord wants you to serve as the President of the Bitburg Branch Quorum of Elders.  Will you accept that calling?"  I was certain the Stake President had received inspiration from the Holy Spirit, so I said "Yes, of course."
Then the Stake President added, "our Priesthood Meeting will begin in about 10 minutes and we would like to sustain the new Elders' Quorum Presidency in that meeting."  He pointed to an empty classroom and added, "will you please go into that room and take about five minutes to pray for the names of two brethren to serve as your counselors in the presidency?"
Wow!  I knew the Stake President held priesthood keys.  I knew I had just been called by inspiration.  I knew the Lord answers prayers.  I knew I was worthy.  And, I knew I had five minutes to receive inspiration.  I remember thinking to myself: "Scott, PAY ATTENTION!  Within five minutes, you will receive revelation!"  Interestingly enough, there was no need to wait five minutes.  As soon as I knelt down and began my prayer, two names came clearly into my mind:  Brother Riggs and Brother Shelton.
Does the Lord answer our prayers?  Yes, He does.  And, He does it to advance the Great Plan of Happiness in our lives and the lives of all His children.  For me, I have often prayed for what I want, but I am usually given what I need, when I need it.  I have learned not to question the will nor the wisdom of the Lord.  I just make sure the lines of communication are open.
---
9 Feb 2016
Immediate Blessings
I live in a beautiful mountain valley where the winter mornings can be very cold.  I usually feed the horses in the mornings before the sun comes up and at night time when its dark.  The nights can be long and cold for the animals, so in the early mornings they usually gather on the west side of the pasture to catch the first bit of sunlight as it breaks over the mountain tops.  Myself, I also watch for the sun to come up because as soon as it does, "immediately" I feel the warmth of its radiance.
This is a great lesson, and a "type" of the influence of the Gospel and the Savior in our lives.  Those of us who may be struggling in darkness and/or despair (whether by ignorance or disobedience) can also feel the "immediate" love and influence of the gospel in our lives when we turn from that behavior and embrace Jesus Christ.  He will "immediately" bless our lives with the love and warmth of the gospel.  We may not be made completely whole "immediately," but we will feel his love and have hope "immediately" as the "great plan of redemption" is "brought about" in us. (Alma 34:31)  Pure and lasting joy will come as we learn more of Him, continue to follow Him, and embrace His Plan of Happiness.
---
5 Feb 2016
Keeping the Commandments
The Lord's instruction to "keep the commandments" (Alma 37:35) may seem old fashion to some, and unbecoming of a loving Heavenly Father.  Or, some may think the commandments just take away our agency.  But what are the commandments of God?  Are they just a set of arbitrary rules that test us, restrict us, and must be obeyed?  And in the end, if we have obeyed them, we win the prize?  No, the commandments of God are the Laws of Heaven, or in other words, the Laws of God.  They are the same laws He lives by.  They are Eternal Laws.  In this life, we don't fully understand all the laws of Heaven …not yet!  But, through the scriptures and the revelations of God, we can begin to understand God's Laws as they apply to us at this time.  As the Apostle Paul wrote, "For now we see through a glass, darkly; but then face to face: now I know in part; but then shall I know even as also I am known." (1 Corinthians 13:12).  In the meantime, we are asked to live by and keep the commandments as we understand them.  We learn more of the Laws of God by obeying and keeping the commandments.  And, by keeping the commandments, we become more like Him.
Consider the following from Elder Dallin H. Oaks, an Apostle of the Lord: "The Final Judgment is not just an evaluation of a sum total of good and evil acts—what we have done. It is an acknowledgment of the final effect of our acts and thoughts—what we have become. It is not enough for anyone just to go through the motions. The commandments, ordinances, and covenants of the gospel are not a list of deposits required to be made in some heavenly account. The gospel of Jesus Christ is a plan that shows us how to become what our Heavenly Father desires us to become.  And what is it that we must become? The Savior answered very simply: "Even as I am" (3 Nephi 27:27). He is the mark we must always look to. He is our supreme example. He was chosen as our Savior not just because of His perfect obedience but because of His perfect love—love that encompasses perfect knowledge and that motivates perfect obedience." [The Challenge to Become, LDS General Conference, October 2000]
I am convinced that the Laws and Commandments of God are good. We still have our agency to choose not to obey.  But, as we do obey and keep the commandments, we will become more and more "Like" Him.
---
2 Feb 2016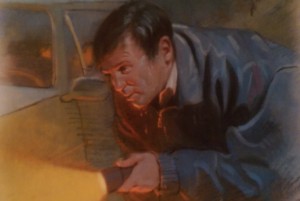 Maybe We Should Pray!
In the spring of 1975 Jenny and I were living with our three children (Heather, Melissa and Scotty) among beautiful green farmland in the Rheinland-Pfalz area of West Germany. Driving home from church one rainy Sunday, we stopped to have a look at an automobile that had rolled onto its side in the wet roadbed at the edge of a forest. Inside the forest it was already dark because of the thick canopy created by the trees and the oncoming night.
After looking at the wrecked vehicle, we returned to our car and discovered it was stuck in the mud. I couldn't back up, but I could drive forward—into the forest. We had previously driven through the forest and found that many forest roads were interconnected and would eventually lead back out, so I decided to move forward into the blackness.
I quickly realized that I had made the wrong decision. The narrow, wet road was filled with deep ruts of mud and kept leading farther and farther down into the dark forest. I tried to keep up speed, fearing that if we stopped, we would become mired. I saw a high spot just ahead that looked firm enough to sustain the weight of the car. My plan was to get the car out of the mud to give myself time to think. I turned sharply and the car lunged up and out of the mud.
I turned off the car and climbed out. With the headlights off, I couldn't see a thing. I turned the headlights back on, grabbed our flashlight, and after looking the car over, decided that my best bet was to back into the forest and then make a mad dash out and then up the way we came.
I backed as far into the forest as possible, revved the engine a little, lunged back onto the road, and sank deep into the mud. Now we were really in trouble. Outside the car it was total darkness and silence. Inside the car my wife and I sat with three terrified children.
I asked Jenny if she had any ideas. After a moment she said, "Maybe we should pray." The children calmed down almost immediately. I offered a humble but desperate prayer for help. As I prayed, a thought came clearly into my mind: "Put on the tire chains."
Standing in 10 inches (25 cm) of mud in her Sunday dress, my sweet wife held the flashlight while I cleaned the mud from around the rear tires with my bare hands and put the chains on. With faith and confidence, we prayed again and started the engine. Slowly we drove through the mud and eventually back onto the pavement.
In the excitement of being freed from the mud and the darkness, I almost forgot who had helped us out of the forest. Our five-year-old daughter Heather reminded me when she said, "Daddy, Heavenly Father really does answer prayers, doesn't He?"
(Note: This article was published in the Ensign Magazine, April 2012 edition, page 73.)
---
17 Jan 2016
Enduring with Hope
It occurs to me that many obedient souls are rightfully and faithfully following Jesus Christ and the principles of the gospel.  They keep the commandments, attend their meetings, keep the Word of Wisdom, pay an honest tithe, read their scriptures, love and teach their children, live morally clean, show kindness to others, and generally keep themselves unspotted from the world.  What they do is commendable, and I'm sure the Lord is pleased.  We should admire and respect their righteous efforts.  And we should do likewise.  They are "faithfully enduring in righteousness to the end" (2 Ne. 31:20).  But what of this word "endure?"  It conjures up the notion of abiding or persevering through painful or difficult conditions.  To be sure, sometimes life is difficult, and we hope to survive the difficulties.  But in the meantime, there is much to have Hope in, much to have hope for, and much to be happy about.  Jesus Christ is the Savior and Redeemer of the world, and he is alive and well.  The Gospel Fullness has been restored to the earth, and the Plan of Salvation has been revealed. (1 Ne. 13:37).
Interestingly, in the Book of Mormon, the Prophet Lehi's dream/vision of the Tree of Life (see 1 Nephi. 8) provides an insight into a way to deal with despair …so that we don't endure in ignorance.  In 1 Ne. 8:5-8, when Lehi rightfully obeyed the "man dressed in a white robe" and followed him, he found himself in a "dark and dreary waste."   And it says he "traveled for the space of many hours in darkness."  So we read, Lehi obeyed and followed the man faithfully in a wasteland, not knowing where he was.  Lehi was apparently in despair.  At that point, Nephi records that Lehi prayed unto the Lord for mercy.  Not until then, did Lehi behold the vision of the Tree of Life, one of the most glorious and enlightening visions in scripture.  Perhaps, like Lehi, many of us trudge along through life, keeping the commandments and enduring to the end, but not praying to the Lord for mercy, hope and enlightenment.